Professional background


I have over 25 years of experience in the power electronics design from concepts to production at leading power supply companies, such as Transistor Devices (TDI), Todd Products/ Condor DC, and Bertan High Voltage.

The longest part of my career is associated with TDI. I've been there from 2001 to 2014. My developments at TDI included a series of conduction-cooled and convection-cooled power supplies with 360-800 Hz PFC for various commercial aircraft systems such as in-seat inverter, high-efficiency high-density 1000W and 500W telecom PSU with 1U height, a programmable multiple output SMPS with magamp post-regulators for medical applications, a DC-DC military-grade converter for VME, a DC-DC converter card with multi-phase synchronous rectifiers, and others.

Prior to joining TDI, I worked for Todd Products in Brentwood, NY. I have been with Todd for 11 years as a Senior Power Supply Design Engineer and then as Manager of R&D Group. Here is a photo of the Todd staff when I joined it in 1990

(click on the picture for a larger image)

: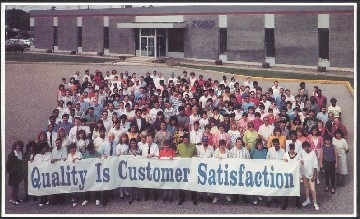 I worked there until the Todd facility in Brentwood, NY (owned at that time by Condor DC Power) was closed up in 2001, being among the last five of Todd's employees. Below is a photo of Todd's staff during its last week in 2001.

(click on the picture for a larger image)

: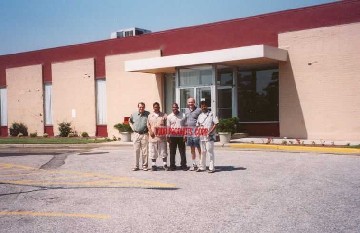 My main responsibility at Todd Products was advanced product development. I designed a number of Todd power supply product lines as well as custom models, including:

200W AC to DC and DC to DC CompactPCI series of hot-swap modules (first on the market in 3Ux8HP form factor);
350W custom CompactPCI model with synchronous rectification (2.5V/70A, 3.3V/50 A);
A generic power factor correction (PFC) front end, which became the core of all Todd's PFC power supplies;
Base models for the 750 and 1500 W universal input AC/DC power supply series (at the time of development both were claimed to be the smallest on the market in their class);
Base models for multiple output 350 W and 500 W DC-DC series with high-efficient magamp regulators;
3 kW adjustable smps with PFC (0 to 6 V, 0 to 500A);
Low cost 48V 600W telecom PSU;
Custom models for XEROX Corp., AT&T, NET, and other customers.
My education:

The Degree of Engineer (equivalent to MSEE) from Leningrad Electrical Engineering Institute for Communications (LEIS).

PUBLICATIONS:
Standby Powering Over Ethernet - U.S Patent Application 15/193,121

Load Distribution And Power Management System And Method - U.S.Patent Application 13/788,431

Powering In-Flight Entertainment Equipment for Commercial Aircraft

Powering CompactPCI systems

Specifying power supplies for embedded systems

When it comes to CompactPCI supplies standards are helping

Understanding transient response of a Switch Mode Supply

Powering carrier grade systems

Invention: High voltage supply

Invention: Method of neutralizing static electricity



NOTE:

I maintain this and some other websites on my own personal initiative. They are not endorsed by my current or past employers. Likewise, the opinions expressed here are my own and do not represent the opinions of my employers.










@smpsus